RELATED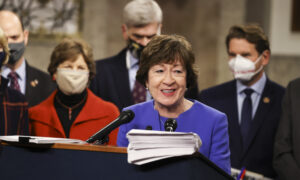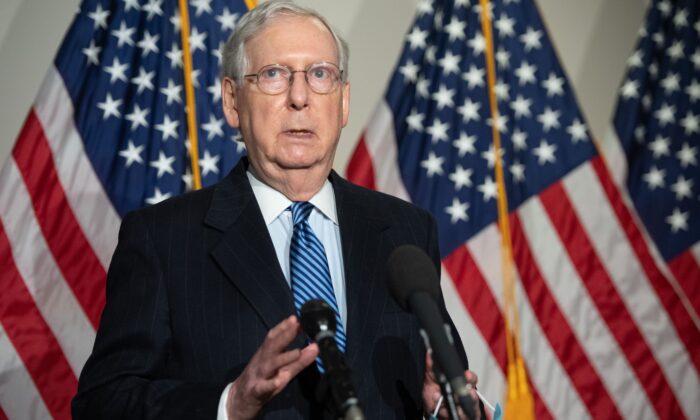 Senate Majority Leader Mitch McConnell (R-Ky.) speaks to the media following the weekly Senate Republican lunch on Capitol Hill in Washington on Nov. 10, 2020. (Saul Loeb/AFP via Getty Images)TRUMP ADMINISTRATION
BY JACK PHILLIPS December 31, 2020 Updated: December 31, 2020biggersmallerPrint
Senate Majority Leader Mitch McConnell (R-Ky.) described the $2,000 direct payments to households as "socialism for rich people," arguing that targeted relief in the stimulus bill is needed.
"Our colleagues who purport to be the champions of vulnerable Americans now say that what struggling people really need is for Congress to stop focusing on targeted relief for them specifically and to instead send thousands of dollars to people who don't need the help," McConnell argued on the Senate floor on Thursday.
McConnell said the direct payments are tantamount to "borrowing from our grandkids to do socialism for rich people," adding that it is a "terrible way to get help to families who actually need it."
It came as Sen. Bernie Sanders (I-Vt.) asked for unanimous consent to pass the $2,000 direct payments as a standalone bill, which was rejected.
McConnell sought to combine that bill with other provisions such as setting up an investigative body to look into allegations of voter fraud and repealing Section 230 of the Communications Decency Act, which Democrats have said is a move designed to fail.
But McConnell went on to say that some families who earn a significant amount and who don't need the stimulus money will receive several thousand dollars.
For those families, "Nobody is out of work but our so-called progressive friends say the household need, quote, 'survival checks,'" the majority leader added. "In fact, they believe a family of five should have to earn $350,000 before the spigot of government money would stop entirely," he said, referring to the HEROES Act that was passed by Democrats in May.
"Socialism for rich people—that's what Speaker [Nancy] Pelosi and Senator Sanders have sketched out. A terrible way to help those who need it. Experts across the political spectrum agree," McConnell said.
Last week, President Donald Trump criticized the stimulus bill passed in Congress and called for $2,000 direct payments, rather than the $600 ones that were included in the bill. The president later signed the bill on Sunday and called on Congress to remove some of the non-pandemic-related measures.
Some Democrats have used McConnell's words and move to block unanimous consent on the $2,000 direct payments to cast a shadow over the looming Senate runoff elections in Georgia. The seats held by Sens. Kelly Loeffler (R-Ga.) and David Perdue (R-Ga.) are up for grabs, with a vote scheduled to be held on Jan. 5.
Following McConnell, Senate Minority Leader Chuck Schumer (D-N.Y.) argued McConnell's combined bill won't pass because it has no Democratic support.
"There is one way, and only one way, to pass $2,000 checks before the end of the year, and that's to pass the House bill," Schumer said. "Either the Senate takes up and passes the House bill or struggling Americans will not get $2,000 checks during the worst economic crisis since the Great Depression," he added.